DAWN OF DISEASE to re-release first two albums as "Legends Of The Unrotten" double album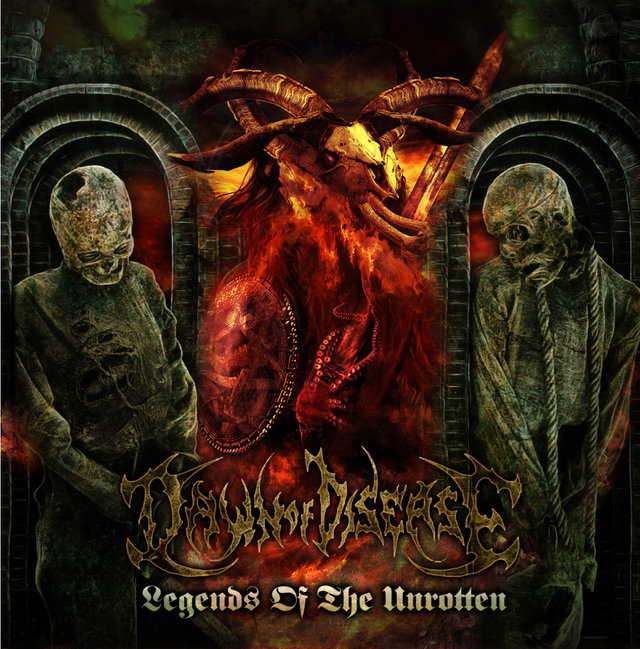 Osnabrück-based DAWN OF DISEASE have been raising dust within Germany's Death Metal scene for years. Recently, the Northern German band released their label debut on Napalm Records, and now it is time to fire two classics of the band's history onto mankind once more. NoiseArt Records will re-release the two Death Metal high-flyers "Legends Of Brutality" and "Crypts Of The Unrotten" as one double album "Legends Of The Unrotten".

The band states:
"Wow! After more than four years our first two full-length albums Legends Of Brutality (2011) and Crypts Of The Unrotten (2012) have already been completely sold out for several months. Thanks to everyone out there who bought these crushing pieces of Death Metal! Right now we are all the more pleased about the release of the 2-CD-Set Legends Of The Unrotten which will be unleashed upon mankind on 9th december containing both albums. There will be now mercy for those who haven't grabbed these albums yet! In Death We Blast!"
"Legends Of Brutality" laid the foundation for the band's success in 2011. Death Metal the Scandinavian way, raising eyebrows with the typical DAWN OF DISEASE style, and emphatically answering the question if there's any good Swedish Death left nowadays. The great first full-length with its melodic, yet exhilarantly impetuous approach is even in retrospect a great Death Metal release that does idols such as Dismember, Entombed, and Grave credit and blows a new, rotten wind through the Death Metal catacombs with its own and unique touch.

"Crypts Of The Unrotten" was released only a year later and nevertheless shows DAWN OF DISEASE's next step. The quintet that is already an inherent part of their local Death Metal scene brings their style onto the next level on their second album. Without putting hands on their trademarks, they furnish "Crypts Of The Unrotten" with surprising elements that make even long-time Death Metal scene veterans addicted to the album.

Tracklisting "Legends Of The Unrotten":

CD01
1. Gasping For Life (Intro)
2. Above The Gods
3. Impervious Mind
4. Legends Of Brutality
5. Soul Harvest
6. When White Turns Red
7. Death Shall Be Mine
8. Justified Retaliation
9. Out Of Breath
10. Sinister Rapture
11. Bitter Fate
12. Silence Prevails (Outro)

CD02
1. Descent Into Another World (Intro)
2. Alone With The Dead
3. Knife vs Flesh
4. The Unrotten
5. Skinless And Impaled
6. Enter The Gates
7. Calcined Bones
8. Catacombs
9. Final Resurrection
10. Devouring Obscurity
11. But Death Goes On
12. Soulless Shape (Bonustrack)

"Legends Of The Unrotten" will be released on December 09th via NoiseArt Records.

www.dawnofdisease.com
www.facebook.de/dawnofdisease