TROLLFEST: new single and lyric video released "Fräulein Helluva"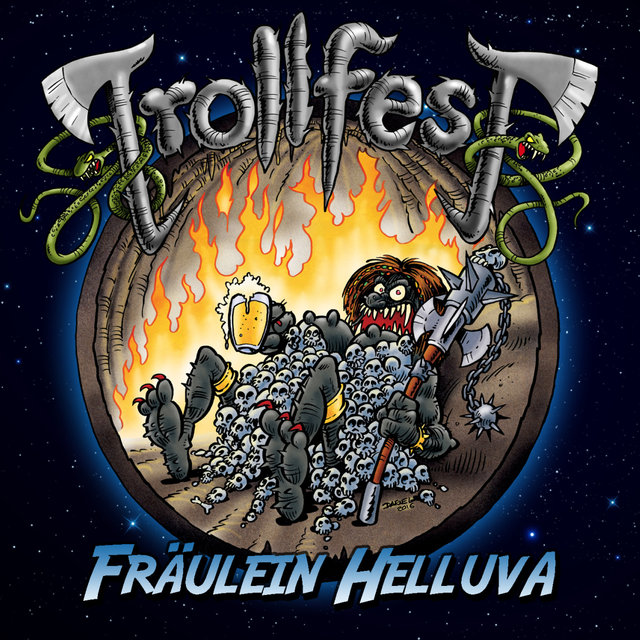 Norwegian Balkan metallers TROLLFEST will unleash their upcoming studio Album "Helluva" on February 24th, 2017 via NoiseArt Records.

Today, the band have revealed the lyric video of the second single "Fräulein Helluva"! The animated video is
directed by Mr. Seidel - check it out:

TROLLFEST states:
"Fraulein Helluva" is a relentless hybrid ska-metal beast, and the neverending pumping rythms might just represent the panicky heartbeats of our team as they venture deeper down towards their goal, the enormously grotesque, yet tempting HELLUVA! She is the mother of all trolls, and this is when Professor Otto & Co finally meet her! As you might have guessed by now, the mission is to pair Jegermeister and Helluva in a mating session in order to produce the strongest and most violent offspring ever. Jegermeister is aware of the fact that he will most likely be consumed in the heat of the moment by his feminine superior counterpart, but he is willing to sacrifice himself for the greater good. Only one part of him (or two) will survive the encounter!
The single features much brass, along with most of the other tracks on Helluva, performed by "The Damnation Army". But that's not all! This song, as well as many of the new ones you have yet to hear, features that oh-so-sweet touch of double X! Yes, that's right, the girl choir (also known as "The Spelunking Sisters") can be heard throughout the choruses!
And for the first time in Trollfest history, this track is accompanied by an animated lyric video directed by Mr.
Seidel! The bright colours, rythmic movements and the bringing to life of these beloved characters is something that Tollfest are very proud of! Hands up who wants to see more of this in the future!"

Pre-order a physical copy of »Helluva« by itself or in various bundles here: http://helluva.noiseart.eu/
"Fräulein Helluva" and "Steel Sarah" are now available as an instant download, when you pre-order »Helluva« digital. Both single are also available on all digital plattforms (Spotify ect.).

More about »Helluva«:
"Steel Sarah" (Video Clip): https://www.youtube.com/watch?v=FuPVDZqRSEs
Trailer #1 (artwork): https://youtu.be/5OMC2KLaMbM
Trailer #2 (instruments): https://youtu.be/Cl2HtPIjBIc
Trailer #3 (guests): https://www.youtube.com/watch?v=4deTkVyR8D8&feature=youtu.be
Non-Lyric-Video "This Is Just An Intro": https://www.youtube.com/watch?v=1OKw175ouKk&feature=youtu.be
Studio Trailer #1: https://www.youtube.com/watch?v=_QlnidalbcA&feature=youtu.be
Studio Trailer #2: https://www.youtube.com/watch?v=CiXoz6lgR3I

Tracklisting of "Helluva":
01. This Is Just The Intro
02. Professor Otto
03. Spelunking Sisters
04. Gigantic Cave
05. Steel Sarah
06. Trollachen
07. Hen Of Hades
08. Reiten mit ein Fisch
09. Fräulein Helluva
10. Kabaret
11. La Grande Finale
12. What A Good Idea
Bonus-Songs (Digipak-Version)
13. Don Gnomo Vega
14. Sputnik


www.trollfest.com
https://www.facebook.com/trollfestofficial