KAMBRIUM - "DAWN OF THE FIVE SUNS" cover & tracklist released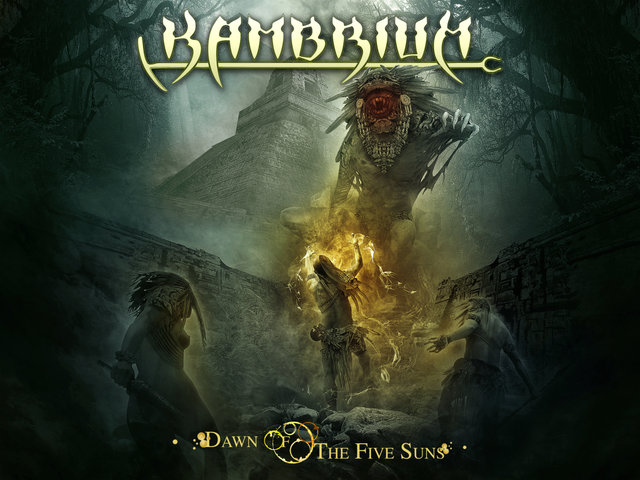 The german epic death metal band KAMBRIUM are set to release their new studio album 'DAWN OF THE FIVE SUNS' on November 9th via NoiseArt Records.

For the first time in history the band had the chance to work with a real choir of 16 men just to multiply the already high densed catchy tunes on 'DAWN OF THE FIVE SUNS'. The musical substance is even more eclectic, ambient and illustrous than before. Thus creating a jungle-like ambience just to drag the listener into the myths and sagas of the Aztecs!
In addition to that Felipe Machado did it again and desinged the fantastic and remarkable artwork. You might already know him from his artwork projects with Blind Guardian, Xandria, Rhapsody of Fire and of course from Kambrium's last album 'The Elders' Realm'.

'DAWN OF THE FIVE SUNS' was mostly recorded at the renowned Kohlekeller Studio under the direction of Kristian Kohlmannslehner.

Today, the band released also the tracklist for that upcoming album:

Tracklist:
01 - Forest Hunt
02 - Dawn Of The Five Suns
03 - Against All Gods
04 - Cabrakan, God Of Mountains
05 - Everlasting Resistance
06 - Ghost Shaman
07 - Tribe Of Darkness
08 - Nocturnal Woods
09 - Sacrifices Must Be Made
10 - Blood Soaked Goddess
11 - Lord Of Mictlan

"Against All Gods" will be the first digital single, and lyric video which will be available on Friday, 31 August! Stay tuned!

The band states:
"Against All Gods" is a very fast and diverse song, with a chorus that won't leave your head anymore!
This song gives you a first sneek peak of the 16 headed male choir we have on "DAWN OF THE FIVE SUNS"!

More info coming soon - stay tuned.
The current album »The Elders' Realm« was released 2016 via NoiseArt Records.
More about »The Elders' Realm«
"Abyssal Streams" Video: https://youtu.be/ocxDlWvC5jk
"Season Of The Sea Witch" Video: https://www.youtube.com/watch?v=nDkRPN1qKhs&feature=youtu.be
"Shattered Illusions": https://www.youtube.com/watch?v=2U01gD6KsSw
"Reckoning Of The Great" : https://www.youtube.com/watch?v=VsgmUlhdq4I
Order the latest Kambrium album here:
Amazon: http://amzn.to/1ZTFVsq

Websites:
www.kambrium-band.de
www.facebook.com/kambrium