TROLLFEST - "Norwegian Fairytales" out now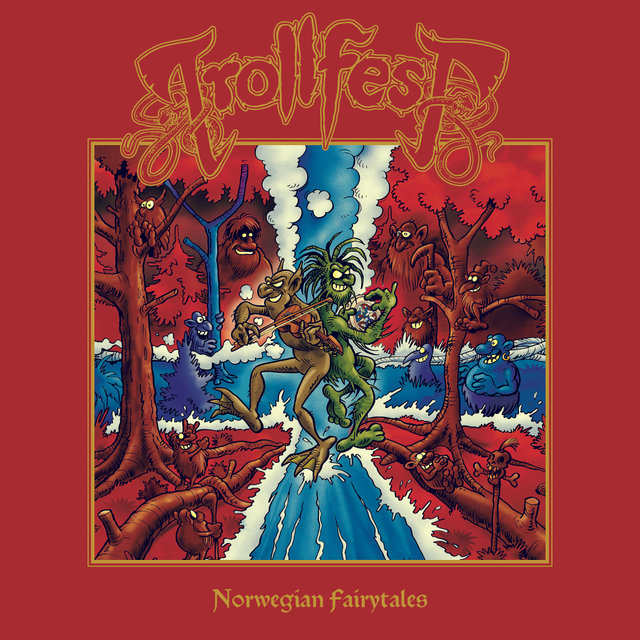 The wait is finally over and today sees the long awaited release of »Norwegian Fairytales«, the new studio album fromTROLLFEST via NoiseArt Records!
Order »Norwegian Fairytales« here: http://norwegianfairytales.noiseart.eu

The band states:
"TrollfesT proudly presents the new album "Norwegian Fairytales"!
This is the TrollfesTs eighth album and it's a concept album based on old Norwegian fairytales and music.
"Norwegian Fairytales" takes the listener on an exceptional sonic journey through the cloud-dappled mountains and misty air of Norway while providing the essential TrollfesT elements, such as Balkan inspired melodies and rhythms, extreme metal, humor and super catchy hooks. "

Buy the album digitally or physically or stream it in your favorite streamer. Let yourself get carried away with good ol´ TrollfesT madness!

To celebrate the new album, the band proudly presents the music video for the brand new TrollfesT song "Fjøsnissens fanteri"! Check it out here:

The band states about the video:
"This is the opening track from our new album "Norwegian Fairytales" and contains all elements that TrollfesT is known for: brutality, folk melodies, madness, humor and a high level of musicality and instrumental skills. The song is about Fjøsnissen, which is a gnome that lives in every barn in Norway (looks like a small Santa clause). This gnome takes care of the animals at the farm if he is being treated well with food and drinks during Christmas time. So, in tradition the Norwegians set out a pot of porridge every Christmas for the farm Gnome. If he is not being treated well and given food, he can get extremely angry and kill the animals. The video was shot in a nice little abandoned barn we found. The animals that used to live in the barn had already been killed by Fjøsnissen, so no additional animals were hurt during the making of the video."


More about »Norwegian Fairytales«:
"Kjettaren mot strømmen" https://youtu.be/JyY5kU-RRms
"Espen Bin Askeladden" https://youtu.be/BmCc-0b6urc
Trailer #1: https://www.youtube.com/watch?v=sNnqIs1wAWM&feature=youtu.be
Trailer #2: https://youtu.be/BpC_unJ3RkA
Track-by-Track #1: https://youtu.be/ELKSzjZsDG4
Track-by-Track #2: https://youtu.be/8MUerEhY9JI
Track-by-Track #3: https://youtu.be/HsLrwrnc9pk

"Norwegian Fairytales" tracklist:
1. Fjøsnissens Fjaseri
2. Kjettaren mot strømmen
3. Espen Bin Askeladden
4. Trine Reinlender
5. Fanden Flyr
6. De tre Bukkene Berusa
7. Småfolkets store bragder
8. Draugen
9. Deildegasten
10. Byttingenes Byttehandel
11. Nøkken og Fossegrimen spiller opp til midnattstimen

With eight full-length releases since their inception in 2004, the trollish powerhouse has constantly kept their fans busy with new music and unrivalled live shows, but this time the lyrics on beer orgies performed in their unique "Trollspråk" have made room to the more ambitious topics and legends that the band wisely chose from their ancestral books and performs in Norwegian language.

But fear not, little party goblins! With still tons of high quality entertainment, humour and unbound energy left, TROLLFEST keep their status as the craziest band in the folk metal forest!


TROLLFEST live:
Album-Releaseshow:
18.01. NO - Oslo - Rock In

25.01. FIN Helsinki - Nosturi (w/ KORPIKLAANI, PROFANE OMEN & special guests WALTARI)
26.01. FIN Tampere - Klubi (w/ KORPIKLAANI & PROFANE OMEN)

16.02 UK Birmingham - HRH Metal

»Wayfarers & Warriors Tour 2019«
w/ KORPIKLAANI, TURISAS, TROLLFEST
21.02. LUX Esch an der Alzette - Kulturfabrik
22.02. D Wacken - Wacken Winter Nights
23.02. NL Tilburg - 013
24.02. B Antwerp - Trix Muziekcentrum
25.02. UK London - Islington Assembly Hall
26.02. F Lille - Le Splendid
27.02. F Paris - La Cigale
28.02. F Mérignac – Krakatoa
01.03. E Bilbao - Santana 27
02.03. P Porto - Hard Club
03.03. P Lisbon - Lisboa ao Vivo
05.03. E Málaga - Paris 15
06.03. E Murcia - Garaje Beat Club
07.03. E Zaragoza - Centro Cívico Delicias
08.03. F Marseille - Espace Julien
09.03. CH Pratteln - Z7
10.03. F Bourg-en-Bresse - La Tannerie
11.03. I Trezzo sull'Adda (MI) - Live Club
12.03. HR Zagreb - Tvornica Kulture
13.03. H Budapest - Barba Negra Music Club
14.03. SK Bratislava - Majestic Music Club
15.03. PL Krakow - Klub Kwadrat
16.03. PL Warsaw - Progresja
17.03. PL Gdansk - B90
19.03. D Berlin - Huxleys Neue Welt
20.03. PL Wroclaw - Centrum Koncertowe A2
21.03. D Jena - F-Haus
22.03. D Munich - TonHalle
23.03. D Mannheim - MS Connexion Complex
24.03. D Cologne - Essigfabrik

More information coming soon. Stay tuned!

TROLLFEST online:
www.trollfest.com
https://www.facebook.com/trollfestofficial